Central Elementary Named National Blue Ribbon School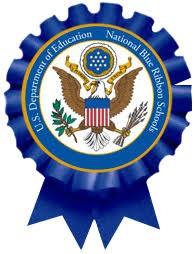 Congratulations Central Elementary students, teachers, staff, principal and parents for being recognized as an Exemplary High Performing National Blue Ribbon School for 2018 by U.S. Secretary of Education, Betsy DeVos.
Click Here for the letter from Aba Kumi, Director of the National Blue Ribbon Schools Program

Central News
November 1, 2018
There will be no newsletter next week.
Writers' Gallery
     Every week the teachers submit writing pieces for us to showcase.  Each week we pick out five exceptional writing pieces to display.  The students are recognized by having their names said on the morning announcements, they receive a "Golden Pencil" and a McDonald's certificate, as well as their pictures and writing exemplars are displayed in Writers' Gallery.   This week's winners are: Bailey H., Gracen D., Anna B., and Emma M.
School Picture Retakes
     School picture retakes for Central are scheduled for Thursday, November 8th. 
Wednesday, October 31st was the last day to wear shorts!!
Outside Recess
      Burrrrrr!!!!  It is cold outside!!  The students still go to recess outside; sometimes they are out there for 30 minutes!! Please make sure your student is dressed warm to go outside.  We have extra mittens, hats and scarves in the office if you need them!
Snow Days -vs- Two Hour Delays
        If we are going to have a snow day or a two hour delay it has to be called by 6:15 am.  If we are on a two hour delay and go to a snow day then it is usually called by 8:15. The fastest way to get the information is to sign up for a text alert or check our district web site.  As soon as a decision is made they post it right away.  Once again this is just a ball park of the timeline for when they make their decisions.
Breakfast
     In the event that we have a two hour delay breakfast will not be served that day.
Giving Tree
     We will be helping out some Central Elementary families this year during the holidays.  If you are interested in helping, please select an ornament off the tree which will be located across from the office.  We ask that the presents be returned to the office by December 12th.
Upcoming Events
Tuesday, November 6th               Election Day!!  Be sure to vote!
                                                   7 :00 pm PTO meeting at Eastern
Thursdays, November 8th            Picture Retake and Parent Teacher Conferences
Tuesday, November 13th        Third grade Veterans' Day performance at the HS at 7:00 PM
Thursday, November 15th            Central Pride (Citizenship)
Wednesday, November 21st through Sunday, November 25th  Thanksgiving Break
Thursday, November 29th            One hour early release
Military Family Resources
Central Library Links