Central Elementary Named National Blue Ribbon School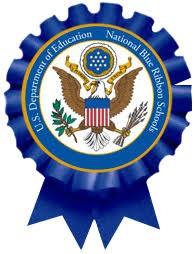 Congratulations Central Elementary students, teachers, staff, principal and parents for being recognized as an Exemplary High Performing National Blue Ribbon School for 2018 by U.S. Secretary of Education, Betsy DeVos.
Click Here for the letter from Aba Kumi, Director of the National Blue Ribbon Schools Program

Central News
Writers' Gallery
     Every week the teachers submit writing pieces for us to display in the showcase. This week we picked out a few exceptional writing pieces to display. The students were recognized by having their name said on the morning announcements, they received a "Golden Pencil" and a McDonald's certificate, as well as their picture and writing exemplar are displayed in Writers' Gallery. This week's winners are Dean, Silas, and Sophia!
Dr. Seuss Week Activities for Next Week!
Monday: 500 Hats of Bartholomew Cubbins Day -  wear your favorite hat!
Tuesday: The Cat in The Hat Day - dress like me day, find a friend (or friends) and dress the same!
Wednesday: Green Eggs and Ham Day - wear green, white or green and white!
Thursday: How The Grinch Stole Christmas Day - dig out those Christmas clothes and wear them to school!
Friday: I'm Not Going to Get Up Today Day - wear your favorite jammies to school!
Weather AGAIN!
    The forecast is calling for snow on Sunday night!!  We would like to be proactive and let you know IF we are not at school on Monday, our First Grade Spring Musical will be held on Thursday, March 7th at 7 pm in the Lexington High School Auditorium.  As of right now we are still on for Monday night, this would only be IF there is a snow day Monday!
Momo Challenge
   The Momo Challenge has hit Central Elementary.  Even some of my younger students are talking about it.  Please read about it on line so if need be you can do a preemptive strike confersing with your children about it. 
Please take time tonight to speak to your children about the 'hoax' MOMO CHALLENGE. I heard quite a few conversations about it today and it is NOT TRUE or VALID. Here is a link to help:
https://twitter.com/natonlinesafety…
Flu/Strep
      Yes, we have EVERYTHING going around school!!  So, as a reminder, if your child has thrown up, or is running a temperature without medication please KEEP THEM HOME for 24 hours.
Make up Snow Days
     As a result of our "snow day" number 10 last week, our final make up day and new last day of school will be THURSDAY, MAY 30, 2019.  Our school calendar is set up as "snow days" 1-5 are not made up.  "Snow days" 6-10 are to be made up.  Any "snow days" after number 10 are not made up.
Winter
     A reminder that the students go outside for recess during the winter until the wind chill dips down to twenty degrees.  (If the wind chill is above 10 we will go out at lunch for 15 minutes, then inside for the rest of the recess) During lunch the students are outside for thirty minutes.  Please make sure that your child dresses warm!
Upcoming Events
Monday, March 4th                  First Grade spring program   7 pm at the high school auditorium
Tuesday, March 5th                 PTO Central at 7 pm
Wednesday, March 6th            Reading Carnival
Friday, March 8th                     Spring Pictures & end of the 9 weeks
Tuesday, March 12th               Fourth Grade Academic Challenge
Friday, March 15th                   Progress Reports go home
Tuesday, March 19th               Central Pride and One hour early release
Wednesday, March 20th          Fitness Night PTO at the high school
Saturday, March 23rd~ Sunday March 31st Spring Break
2019-2020 Kindergarten Registration
2019-2020 Kindergarten Registration
Lexington Local Schools will hold kindergarten registration at Central and Western Elementary schools on Thursday, February 21st from 9:30 a.m. to 3:00 p.m. and 4:30 pm to 7:00 p.m. at Central and Western Elementary schools. Registration will also be held on Thursday, February 28th from 4:30 p.m. to 7:00 p.m.

Your child must be 5 years old on or before August 1, 2019 to be eligible for kindergarten. The following documentation is required for kindergarten registration:
1. Child's original birth certificate
2. Child's social security card
3. Child's immunization record
4. Custody papers (single, adoptive, foster family or name change)
5. Proof of residence (current rental/purchase/lease agreement or
utility bill)
6. Your driver's license
Parents will sign up for a kindergarten screening date & time during registration.
Military Family Resources
Central Library Links