.
Central Elementary School
124 Frederick Street
Lexington, Ohio 44904 (419)884-1308
Summer School Changes
Due to the ongoing installation of the new AC unit at Eastern, Summer School for Monday, July 25 is CANCELLED.
Summer School will begin TUESDAY, JULY 26 AT WESTERN ELEMENTARY.
Central Elementary News
Central Elementary Supply List for the 2016-2017 School Year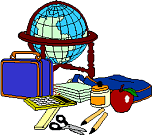 ---
Parents
5-13-16
Thank you!
Thank you to everyone who attended the PTO Ice Cream social! It was so nice to see everyone! Also a huge thank you to Mrs. Duffey who organized the Literacy Scavenger hunt!
Dress Code
Remember that the shorts they wear must reach the mid thigh. A good test for this is that they have to reach below the student's fingertips as they hang their arms by their side. Also, students are not allowed to wear any shirt that their midriff is showing. Spaghetti straps are ok as long as they wear a jacket or a sweater over them. No tank tops, shirts with the sleeves cut out or mesh shirts. Footwear must be worn and should be of a style that will not endanger the safety of the individual and will protect their feet from injury. NO flip flops, open toed shoes, or shoes without backs.
Summer School
If you are interested in having your student participate forms are available in the office.
Upcoming Events
Tuesday, May 17th PTO 7:00 pm at Eastern
Wednesday, May 18th One hour early release
Tuesday, May 17th and Wednesday, May 18th Kindergarten Screening
Friday, May 20th Fun Day Thank you Mr. Brownell
Monday, May 23rd Students who are going to attend Eastern next year will visit
Friday, May 27th Last Day of School
Monday, May 30th Sleep in and let the fun begin