.
Snow Day Decisions
Dear Parents and Students,
Below are the timelines and procedures we will follow when making decisions regarding delaying or cancelling school.
The quickest and best way to receive information regarding a delay or cancellation is go to the Lexington Schools' website and register for our Alert system, or go to the WMFD website and register for the WMFD Alert system. Both Alert systems will notify you via text or e-mail.
On a regular school day, custodians and maintenance personnel begin work at 6:00am. Our bus drivers begin arriving around 6:00am also. The first buses leave the Transportation Department at 6:15am.
When we have inclement weather overnight, in the early morning or being forecast for early morning, Robin Boggs, Transportation Supervisor and I will drive various roads within our district to assess the road conditions. Often the roads which cause us the most concern are the back/side roads and areas that historically are not plowed/treated early in the morning.
Our first decision regarding delay or cancellation needs to be made by 6:00am, at the latest. Robin and I will be in communication regarding the road conditions from 5:15am until the decision is made. We want to make the decision to delay or cancel as early as is possible (between 5:30-5:45 is our goal).
If we decide on a two hour delay, we will need to determine if we will continue on the delay or cancel by 8:00am, at the latest. Robin and I will be driving our areas of the district again, prior to our discussing the conditions at 7:15am until we decide what we need to do (between 7:30-7:45 is our goal).
Our decisions are made based on the road conditions in our district. The safety of everyone coming to our buildings (students riding our buses, students / staff driving to school and parents bringing children to school) is our only priority.
For this school year, our Board of Education has adopted a resolution to waive making up the first five (5) calamity days. Please know, the number of calamity days we've "used" has no bearing on our decisions to delay or cancel. Our assessment of the driving conditions and how those conditions impact the safety of everyone coming to school are the only factors we take into consideration.
The Board of Education also approved a resolution to establish February 16, 2015 (Presidents' Day) and June 1, 2, 3, etc., as needed, as make up days for this school year (2014-2015).
State Report Cards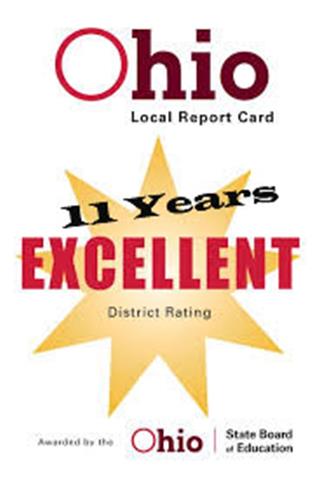 Lexington Local Schools earned an "Excellent" rating on the most
recent report card issued by the Ohio department of Education. This marks the 11

th

consecutive year of an "Excellent" rating. This type of
continued achievement is only possible through the dedication and commitment of school and community.
Over the past several years, Lexington has continued to improve its scores on the performance indicators from the state used to determine the report card rating. These achievements are a reflection of our teachers' expertise and their commitment to maximizing each student's academic growth. They aslo reflect the hard work, focus of our students and parents, and their dedication.
Mission Statement
| | |
| --- | --- |
| | |
"The Lexington Local Schools, through a partnership

with our children's families and our community, will provide the BEST possible curricular and co-curricular opportunities to challenge all students to reach their highest potential, to enjoy learning and to make positive contributions within their homes and communities."