Boys Swim and Dive 2019 OCC Champions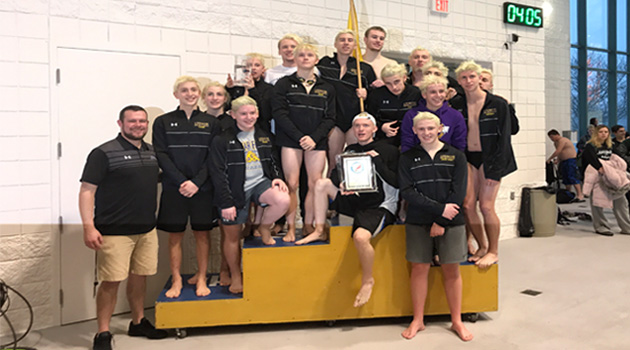 Congratulations to the Lexington Boys' Swim & Dive Team - 2019 OCC Champions!
Eastern 5th Grade Band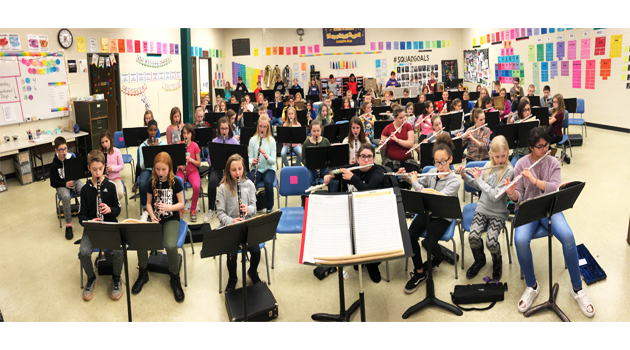 Eastern 5th grade band preparing for their concert January 17th @ 7:00pm in the High School Auditorium.
Eastern 5th Grade Art Ceramics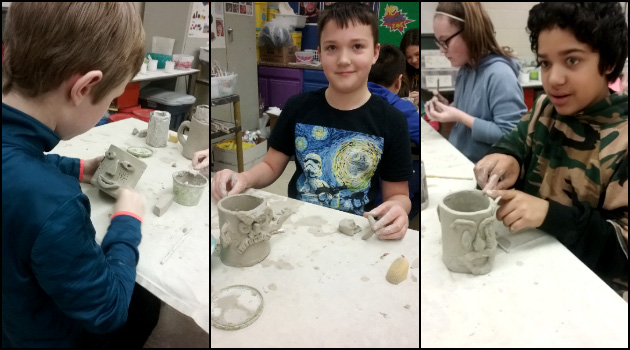 Eastern 5th grade art students learning ceramics techniques by creating mugs.
Law Enforcement Appreciation Day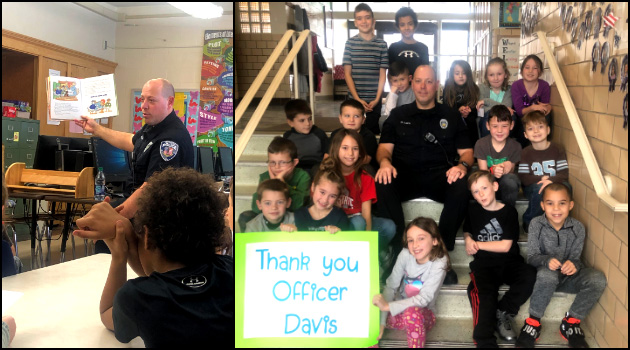 Officer Davis spent some time with students at Central on National Law Enforcement Appreciation Day. Thank you SRO Davis, all our Lexington Law Enforcement Officers and Law Enforcement Officers everywhere for all you do to help make our communities safer and to be a positive role model for our children.
Western Students of the Month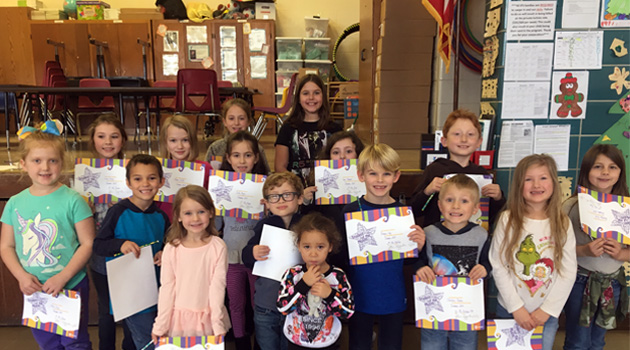 We are so proud of these students for being exceptional Minutemen by showing their pride in academic and character achievement. These students are the fourth receivers of Student of the Month for the 2018-2019 school year at Western Elementary.
Junior High CACY Kindness Challenge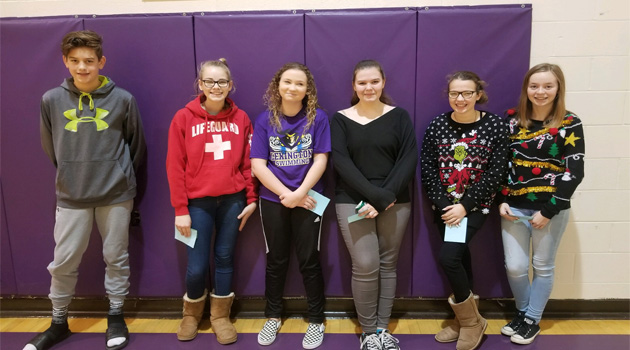 This six weeks the Junior High sponsored a Kindness Challenge. Teachers nominated students who were "caught being kind". A drawing was held including all the names of students nominated. The students pictured are the 7th and 8th grade winners of the Kindness drawing. Prizes were donated by staff members and local businesses.
BioClub Christmas Bird Count at Gorman Nature Center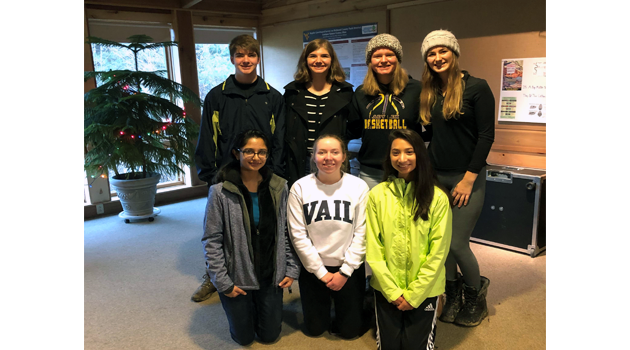 These HS BioClub members participated in the annual Christmas Bird Count at Gorman Nature Center. They walked trails along with other volunteers from the community and from Ashland University to count the number and species of birds at Gorman and the surrounding area. These counts will be a part of the Audubon Society Christmas Bird Count, the nation's longest-running community science bird project.
Minutemen Sign Letters of Intent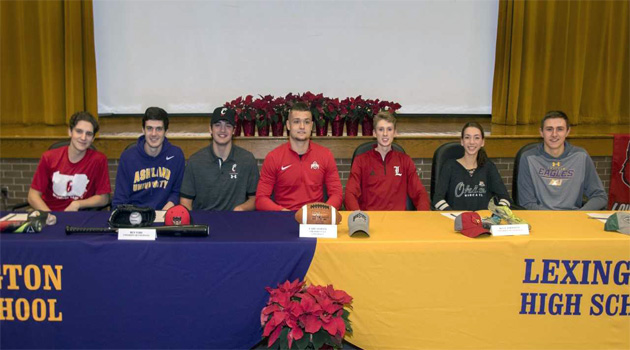 Austin B: Grove City-Baseball Jake D: Ashland University-Baseball Ben V: University of Cincinnati-Baseball Cade S: The Ohio State University-Football Kyle J: University of Louisville-CC/Track Carina W: Ohio University-CC/Track Nick S: Ashland University-Golf
Congratulations to these 7 Minutemen who signed their Letters of Intent regarding where they will be continuing their academic and athletic pursuits.
Lexington LEO Club Helps at Crossroads Church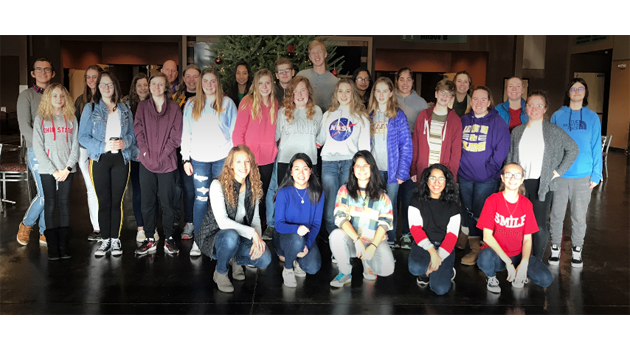 The Lexington LEO club volunteered to help at Crossroads Church in organizing and wrapping gifts for over 1,000 local children. The gifts were specific to each child based on the child's size and needs which included socks, underwear, coats, boots, hats, gloves, clothing, cribs, toddler beds and blankets – and things they wished for including dolls, doll houses, games, learning toys, trucks, cars, fishing poles, skateboards, bikes and play kitchen sets. Giving of your time, energy and resources to causes greater than yourself is a meaningful lesson for everyone.
Western Animal Shelter Donations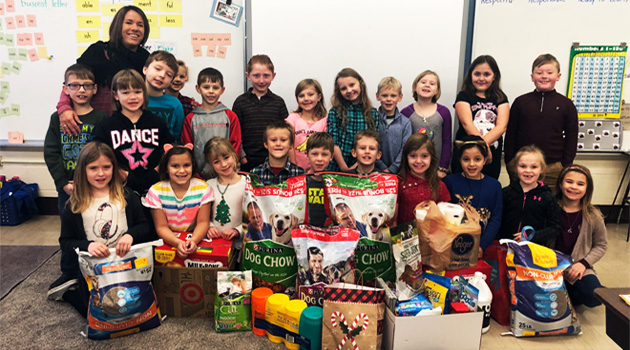 Mrs. North's second grade class at Western Elementary collected and delivered their "giving" goods to the Animal Shelter. The students loved the idea of doing a service project to help the animals waiting to be adopted.
Junior High CACY Members Distribute Gifts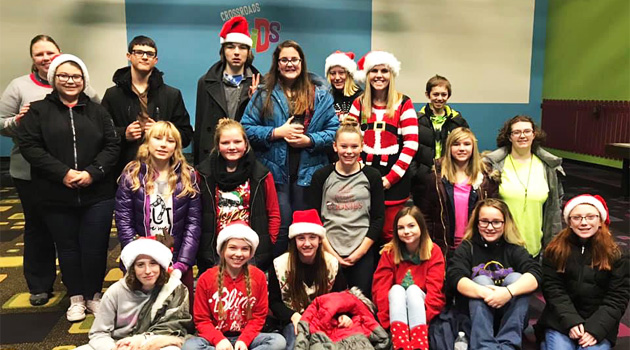 Junior High CACY club members volunteered to help distribute Christmas gifts to over 1,000 students.
Junior High Toy Drive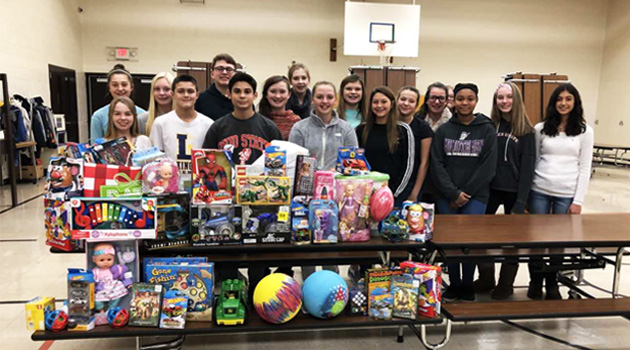 Lexington Junior High Toy Drive for the Richland County Outreach Center.
Zoe S. Digital Art Project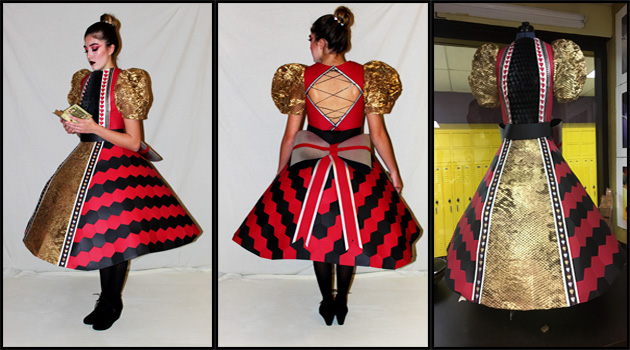 Lexington Junior Zoe S. recently created a 10-pound paper dress for a digital art project. The creation is named Pulp-Fiction. This name acknowledges that the dress is made entirely of various papers. The article of paper fashion is tailored to fit Zoe, and it is quite wearable! The inspiration came from her love of the elaborate patterns in medieval fashion. The idea also was sparked by the exaggerated shapes and colors of the costumes in Alice in Wonderland productions. Making a paper dress and hoop skirt entirely out of paper was no easy task; it took five weeks to complete! Zoe's art teacher, Mr. Javurek, gave her a lot of insight and suggestions that led to the final product. He is one of her greatest influences, and she looks up to his artistic talent on a daily basis. Zoe's goal is to enter the fashion industry. She looks forward to creating more fashion pieces prior to graduating next year.
Junior High Students Studying Layers of the Earth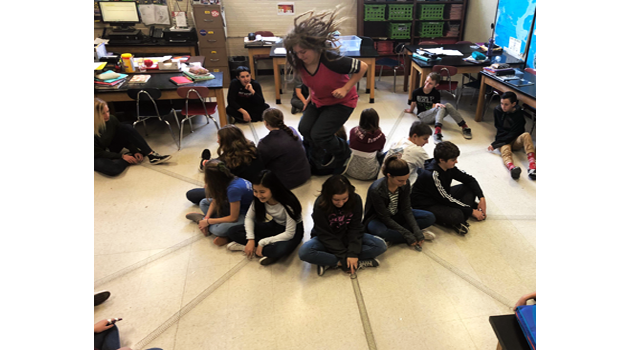 Junior High students are studying evidence for layers of the Earth by using earthquake waves. Charlie is the "earthquake", the kids have Slinkys to simulate energy transfer. It has been a great learning experience that was lots of fun too!
Students Selected to Regional Orchestra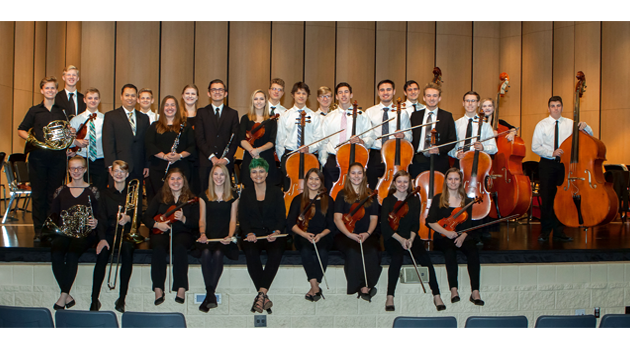 These members of the Lexington High School Orchestra have been selected to participate in the Regional Orchestra. With the students is Steve Domka, the Lexington Orchestra Director. Congratulations to all!
Gabriella M. Crowned Miss Ohio High School 2019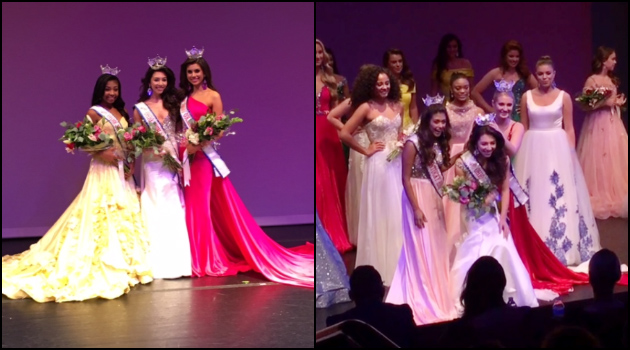 Lexington High School student Gabriella M. was recently crowned Miss Ohio High School 2019 and will be competing for the title of Miss High School America with the winners of the other 49 states this summer. Congratulations Gabriella!
Cade S. Named Mr. Football, DPOY and 1st Team All-Ohio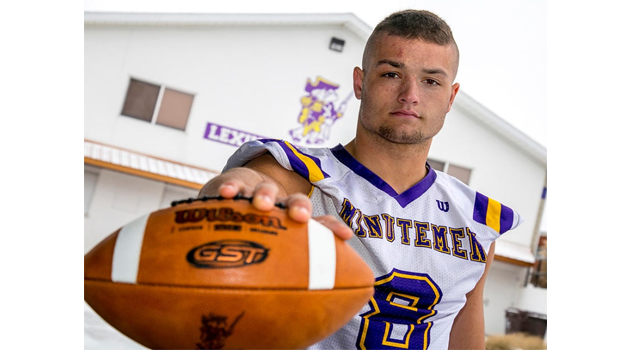 Lexington senior, Cade S. was named Ohio's Mr. Football by the Ohio High School Athletic Association. Cade was also selected as the Division III Defensive Player of the Year and earned First Team All-Ohio honors as well. Congratulations Cade!
Eastern 4th Grade Colonists Study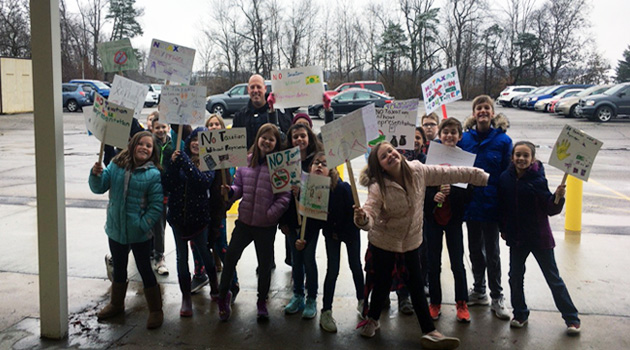 Eastern 4th grade students "protesting" no taxation without representation as part of their study of why the colonists wanted independence from Great Britain.
2018 Mid-Ohio ESC Academic Challenge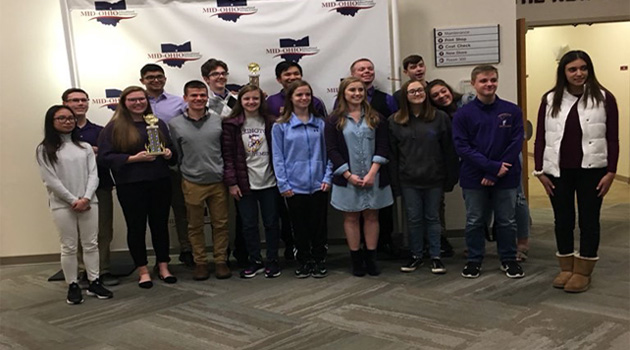 Congratulations to the Lexington High School Varsity and JV Academic Challenge teams for winning the 2018 Mid-Ohio ESC Academic Challenge!
College Signing Day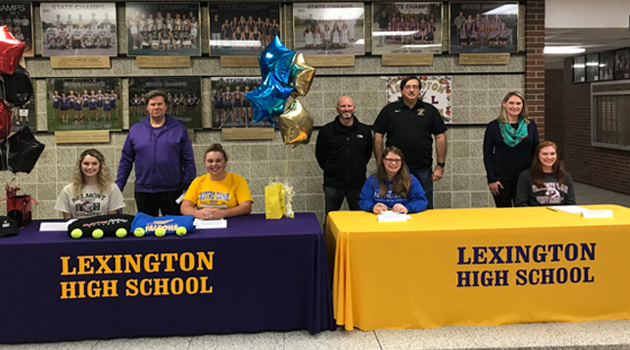 Congratulations to our Lexington High School Seniors who signed today to continue their playing careers after High School. Sylvia G. (Tennis) Belmont Abby College; Hayleigh T. (Tennis) Notre Dame College; Meghan S. (Bowling) Notre Dame College; Amelia M. (Volleyball) Fairmont State University
Central and Western Veterans Day Program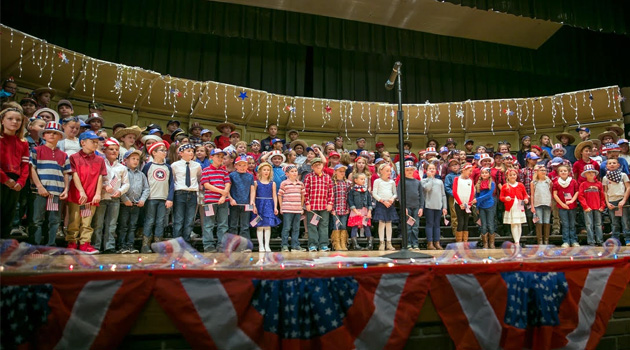 Central and Western Elementary third grade students combined to perform an awesome and moving tribute to Veterans and active duty military. Thank you to Mrs. Hassmann, Mr. Poiner and all the third grade teachers for their efforts to make this combined performance possible. The kids were GREAT!