Eastern Coffee Drive for Firefighters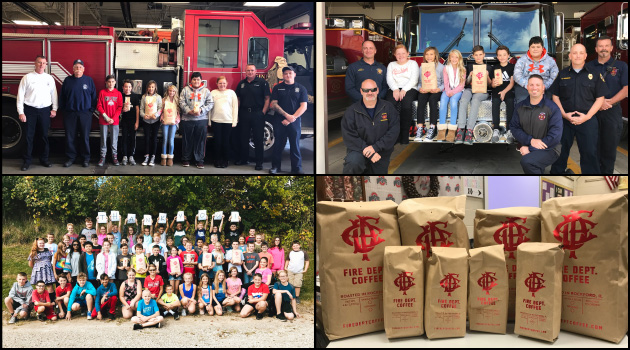 Eastern Elementary recently did community service projects. The 6th grade students from Mrs. Davis, Mrs. Parker, Mrs. Rogers and Mrs. Swart's team did a coffee drive for firefighters. The students chose this project because several of their dads are firefighters. The students raised the funds to provide a special treat of 14 lbs of Fire Dept Coffee to the Mansfield and Galion fire departments where the students' dads serve as firefighters.
Girls' Cross Country Team 2018 OCC Champions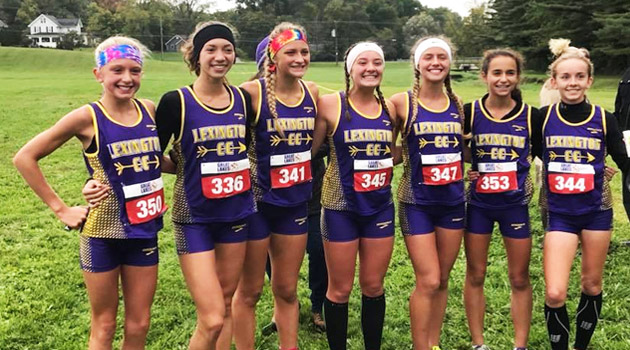 Lexington Girls' Cross Country Team 2018 OCC Champions! Go LEX!
High School Students Wear Blue to Honor Sadie T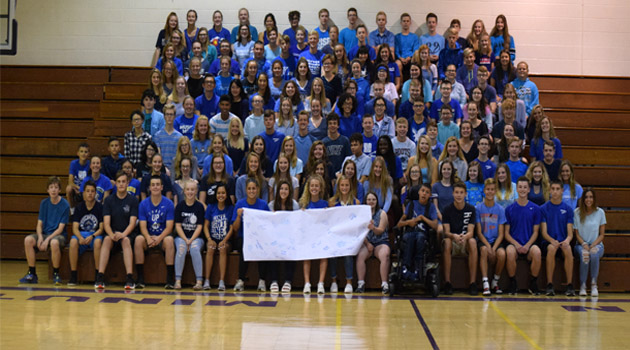 Lexington High School students wore BLUE today in honor of Sadie T. and in support of her family from Ontario.
Girls Volleyball Team 2018 OCC Champions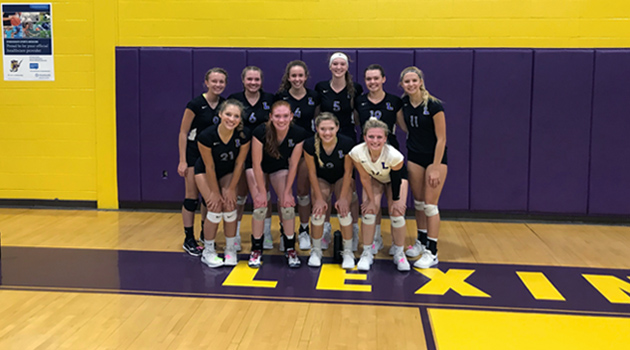 Congratulations to our Girls' Volleyball Team, 2018 OCC Champions!
Hayleigh T. Earns Her 100th Career Win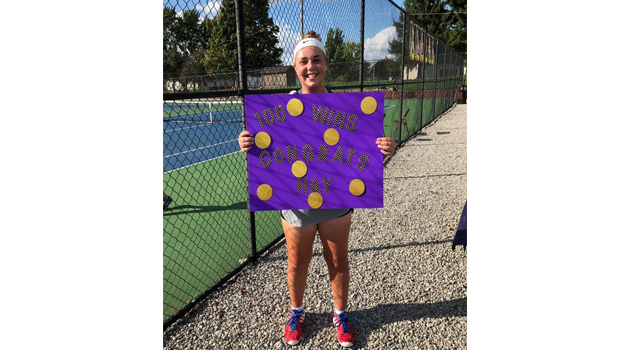 Lexington Senior Tennis Player, Hayleigh T., earns her 100th career win for the Minutemen!
Bridget T. Named Homecoming Queen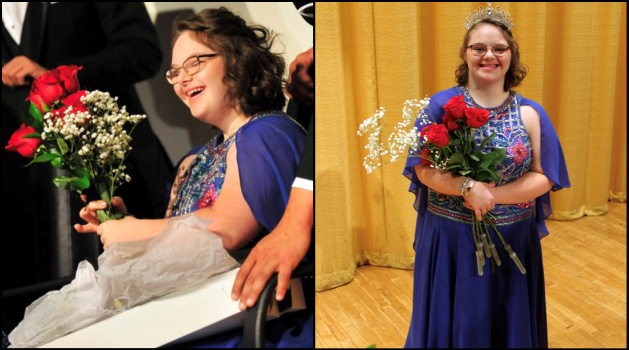 Bridget T. insists she's not a celebrity. Her classmates may disagree. The students at Lexington High School think so much of Bridget, they voted her queen of the homecoming court. "Because they like me," she said.
The 17-year-old has Down syndrome, a chromosomal disorder that is the leading cause of intellectual and developmental delays in the world.
Bridget hasn't let that stop her.
She and the rest of the homecoming court entered the high school auditorium on Friday afternoon for an assembly to name the queen.
The first few rows were reserved for anxious family members. There was some down time before students were released to the auditorium. One football player already had his shoulder pads on.
Each candidate for queen wore a blue gown, while their escorts sported tuxedos. Also vying for queen were Isabelle J., Abbie M., Danielle G. and Mackenzie D.
Bridget's escort for the assembly was Cade S., the star football player at Lexington. Cade is one of the top recruits for perennial national power Ohio State. The petite Bridget barely came up to Cade's chest.
As the girls and their escorts walked into the auditorium and onto the stage, a song played in the background. Bridget chose "I Love Rock and Roll" by Joan Jett and the Blackhearts.
Bridget was the last girl introduced. She drew the loudest cheers.
The brief assembly was dramatic. Each candidate received a box with 12 roses. Four of the boxes contained white roses. The queen was given red roses.
When Bridget opened her box to reveal the red roses, the crowd erupted with applause. Bridget stood and waved to her adoring public before speaking from the podium.
"You've made me very happy," she said. "I love you all."
After the assembly, Bridget was beaming with joy. She posed for pictures with the rest of the court, as well as various loved ones.
"That makes me the queen mom," said Charlene T., Bridget's mother.
Bridget sported matching silver shoes and nails. She made her way to the front of the stage to hug her grandmother.
Before a reception for the court, Bridget answered questions from several media members.
When asked how it felt to be queen, she exclaimed, "I love it," before bursting into giggles.
She seemed confident of the outcome, saying she expected to win.
Bridget beat out a strong group of contenders.
Mackenzie is a member of the National Honor Society. She's also a member of the yearbook staff.
Mackenzie enjoys going to football and basketball games.
"We (seniors) can stand in the front and kind of be in charge," she said.
Abbie is a member of the swim team. Unlike Mackenzie, Abbie doesn't feel any different as a senior.
"It feels the same," she said. "I have a lot of underclassmen friends, and my sister's a freshman."
Both Mackenzie and Abbie said they were just happy to be on the homecoming court. Both of them also plan to go to college, but they are not sure where.
Danielle plays soccer and is a member of both the Spanish Club and the Spanish National Honor Society.
Isabelle is a leading player for the golf team. She also is a member of the National Honor Society and edits the life section of the school newspaper.
A couple of days before the assembly, Bridget and her mother sat down for an interview with the News Journal.
Charlene describes her daughter as "very bubbly, optimistic, confident, cheerful and determined." She is considered high-functioning.
"She just works really hard," Charlene said. "She tries to achieve things."
Bridget has appeared in two school musicals. She was scheduled to sing the national anthem at Friday's homecoming game against West Holmes.
"She goes around singing that a lot," Charlene said. "We're kind of a patriotic bunch."
Charlene wondered if her daughter would be nervous in front of a big crowd.
"I'm not nervous," Bridget said.
Her mom was a bit incredulous about the claim.
"I'm dead serious," Bridget said.
Maybe she wasn't nervous about her big week, but she was excited.
"We have it on video," Charlene said of the moment Bridget found out she was going to be on the homecoming court. "They gave (her teacher) the heads-up, so she videotaped it for me.
"She wants that crown very badly."
Bridget was scheduled to go the dance with one of her three older brothers, Killian.
The daughter of Charlene and Vince, she was especially close to another of her relatives, her Aunt Anna. Like Bridget, Anna had Down syndrome. She also battled Alzheimer's disease and passed away in May 2017.
"They had the same hair color," Charlene said.
They also liked to sing together.
Because she grew up with Anna, Charlene was somewhat prepared to raise a child with Down syndrome.
But that doesn't mean it's been easy.
"Everything just goes a little slower," Charlene said. "There's a lot of joy, but it's hurtful at times. You get stared at when they do embarrassing things."
Bridget enjoys school and reading. She has always attracted attention.
"When she was in elementary school, everybody would say hello to her," Charlene said.
Bridget would hold up her hand as if to wave them off, noting she had to get to class on time.
Bridget may continue going to school at Pioneer Career and Technology Center after she graduates. Because of her condition, she is eligible to go there until she is 23.
She wants to work in a nursing home in hopes of spreading joy.
"Her biggest asset is how she gives people hugs," Charlene said.
No one in Lexington was more joyful on Friday afternoon than Bridget. The day belonged to her.
"You did it," a woman told her as Bridget was leaving the stage.
"I did," she replied.
(Credit: Mark Caudill, Mansfield News Journal)
Central 4th Grade Leaders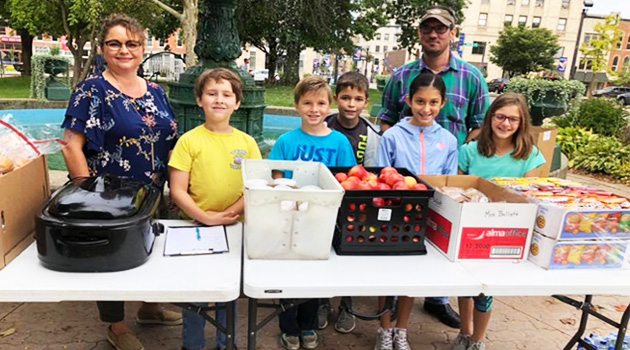 Central's Fourth Grade Leaders helped prepare and serve meals as part of 'People Helping People' in downtown Mansfield.
Parent Lunch Week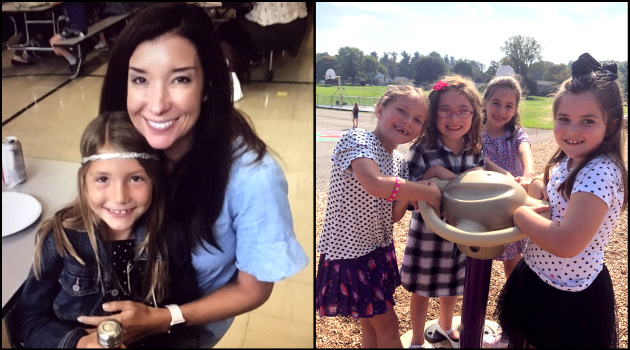 Western first grade students enjoying Parent Lunch Week.
Girls' Tennis Team 2018 OCC Champions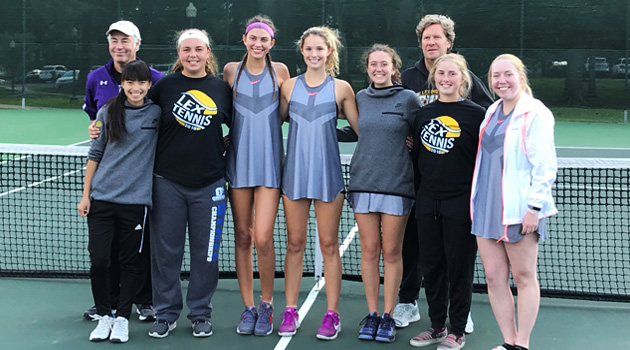 Congratulations to our Girls' Tennis Team, 2018 OCC Champions!
Joanna H. Named Richland Bank Athlete of the Week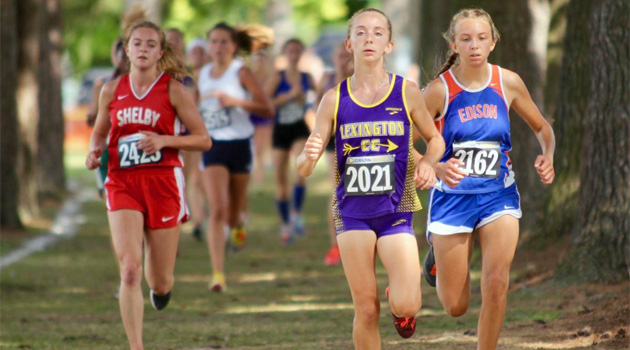 Lexington sophomore Joanna H. was named the Richland Bank Athlete of the Week. She finished second individually at the 50th Malone Invitational at Canton GlenOak over the weekend. Joanna completed the five kilometer course in a season-best 18:51.6, leading Lady Lex to a first-place finish in the team standings.
Eastern Character Focus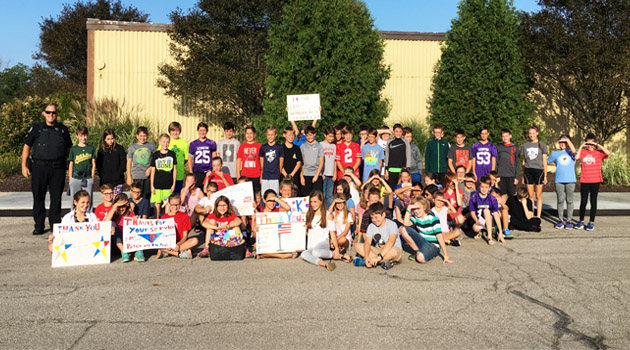 The Character Focus for the month of September at Eastern Elementary was SERVICE. Classes from Mrs. Berry, Smith and Wyant recognized the Lexington Police Department.
Sixth Grade Employable Arts Field Trip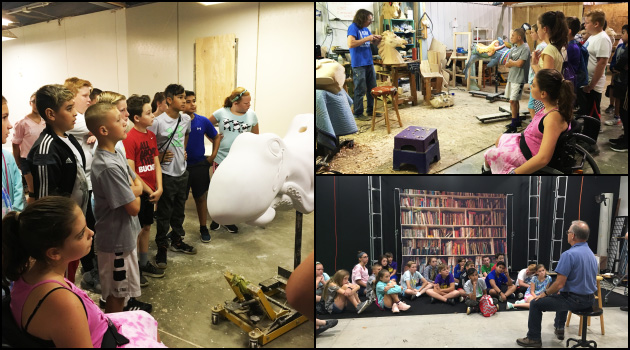 Sixth grade students from Eastern went on their 'Employable Arts' Field Trip, which included stops at DRM, Carousel Works, Carousel Park and the Renaissance Theater.
Boys' Varsity Golf Team 2018 OCC Champions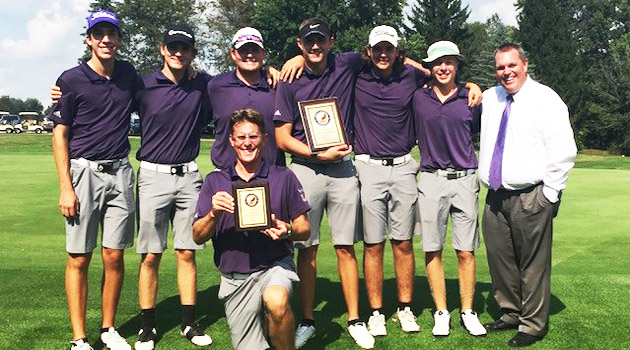 Congratulations to our Boys' Varsity Golf Team, 2018 OCC Champions!
All State Band and Orchestra Students
Lexington High School has six instrumental students who auditioned and were selected to participate at the annual Ohio Music Education Association conference where the All State Band and All State Orchestra perform.
2018-2019 Lexington All State Band and/or Orchestra participants:
Alora D - All State violin # 5
Thomas S - All State violin # 8
Daniel D - All State cello #1
Bryce P - All State cello #2
Aaron S - All State bass #2
Mikinzi P - All State French Horn
Central Students Honor 1st Responders for 9/11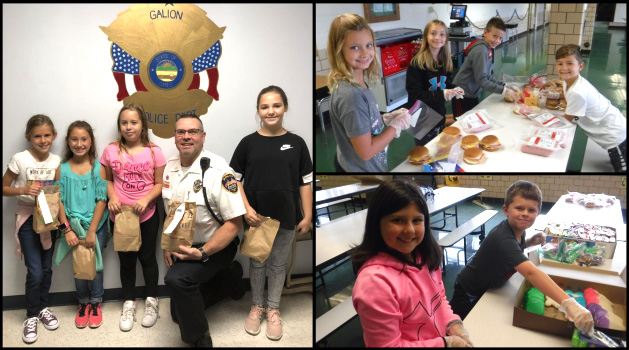 In remembrance of 9/11 and the bravery that was displayed by first responders, Central Elementary fourth graders made lunches, wrote thank you notes, and delivered them to 50 local fire fighters, police, and state highway patrol troopers.
1st Week of School 2018-2019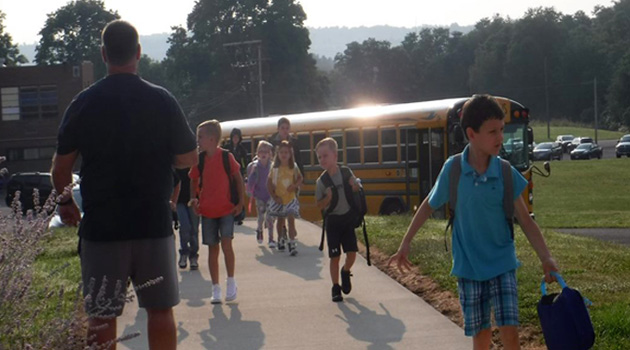 The 2018-2019 school year begins…GO LEX!
1st Week of School 2018-2019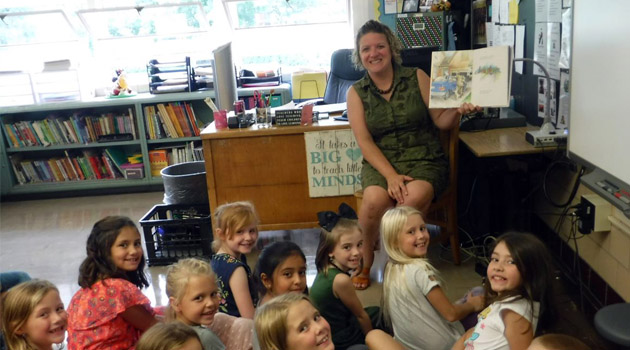 The 2018-2019 school year begins…GO LEX!
1st Week of School 2018-2019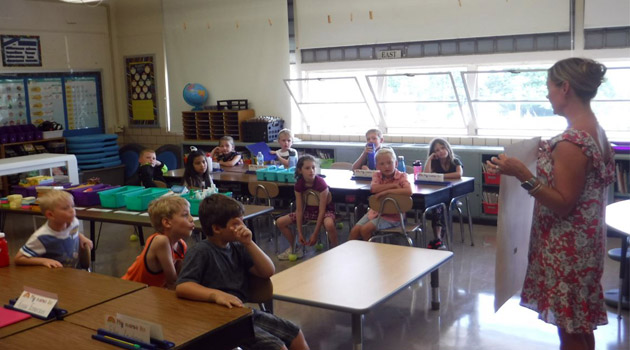 The 2018-2019 school year begins…GO LEX!
1st Week of School 2018-2019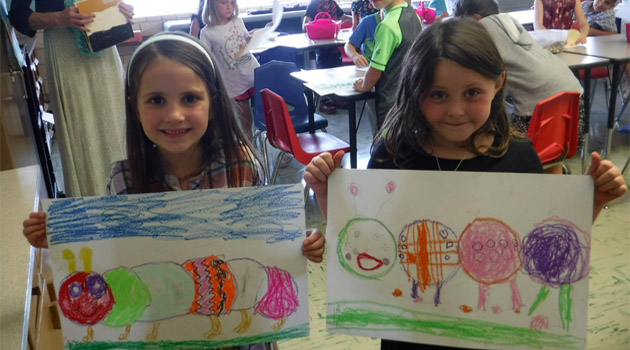 The 2018-2019 school year begins…GO LEX!
1st Week of School 2018-2019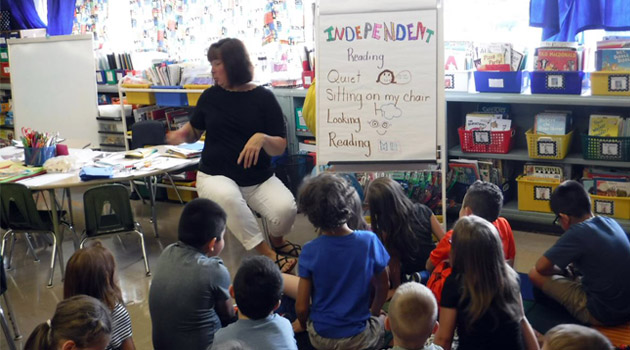 The 2018-2019 school year begins…GO LEX!