Junior High Robotics Club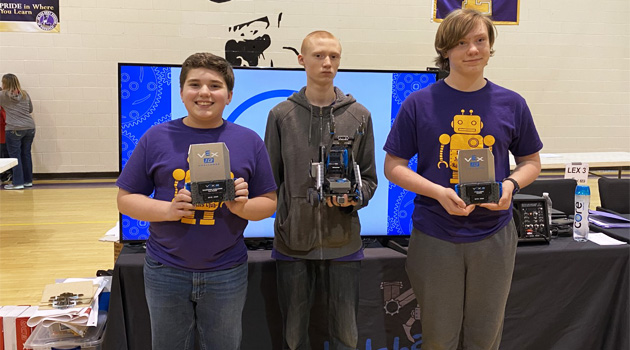 A Robotics Club was started at the Junior High last school year. Recently our 8th grade Robotics Team entered their first competition ever and finished second in paired rounds, won the Excellence Award based on their combined score for all three parts of the competition, and qualified to advance to the STATE Robotics competition in March. Congratulations to (left to right) Dylan N., Damien J., Wesley H. and their Advisor/Coach Mrs. Linda Collins! What a great first competition!
JH Academic Challenge Team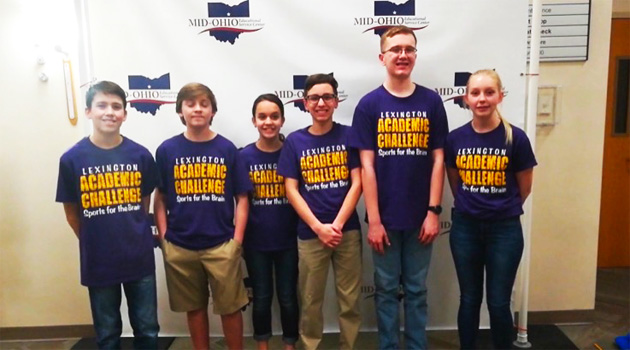 Our Lex Junior High Academic Challenge team placed 2nd in a recent MOESC Academic Challenge competition. Team members from left to right: Oden B., Jacob H., Kennedy L., Grant M., Wyatt M., Darcie R.
Math 8 Scale Projects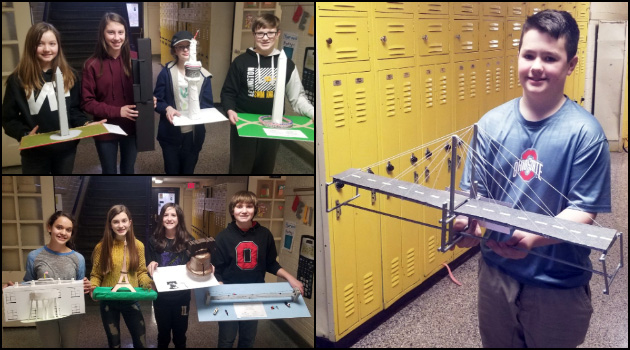 Junior High Math 8 students recently concluded their study of transformations, dilations, scale, and scale factor. Some students chose to make a scale model of a famous structure. Students were required to make their model to a matching scale.
2020 Richland County Spelling Bee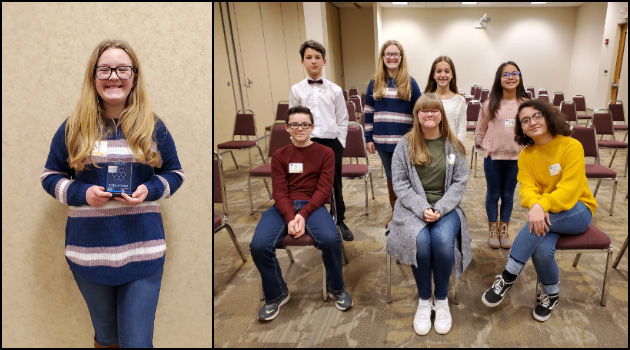 Congratulations to the Eastern and Junior High students who participated in the 2020 Richland County Spelling Bee. 6th grader, Addie S. earned First Place and will advance to the Tri-County Spelling Bee in February. Drayton B. and Natalie H. placed in the top 12 and will also be competing in the Tri-County Bee. 60 total students from Richland County competed in the Spelling Bee. The combined Eastern/Junior High team is (front row) Drayton B, Natalie H and Olivia P. (back row) Drew H., Addie S., Iris P. and Danica S. CONGRATULATIONS ADDIE, DRAYTON, NATALIE AND THE ENTIRE TEAM!
Junior High CACY Distributes Gifts to Children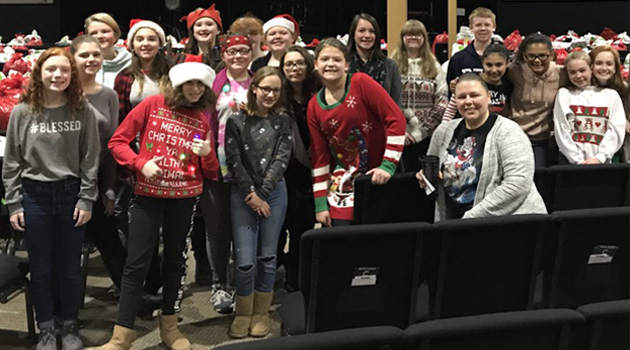 The Junior High CACY group helped distribute gifts for over 1000 children through the local Adopt-A-Child program.
Junior High Toy Drive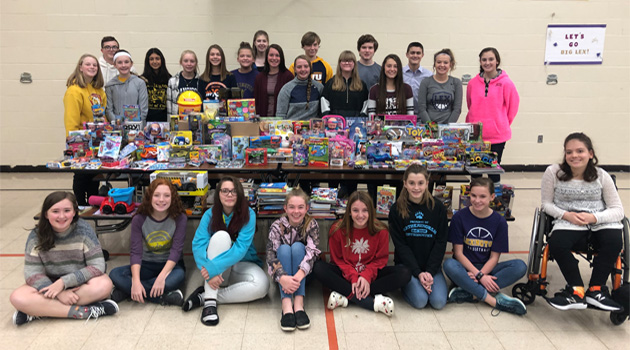 Our Junior High students collected over 500 toys to be donated to children in our area.
8th Grade Thanksgiving Feast
The Junior High 8th graders celebrated the first annual 8th grade Thanksgiving feast the day before Thanksgiving break prepared by the Lex Food Service Department and served by the Junior High teachers and support staff. Everyone had a great time!
8th Grade Physics Gumball Machine Project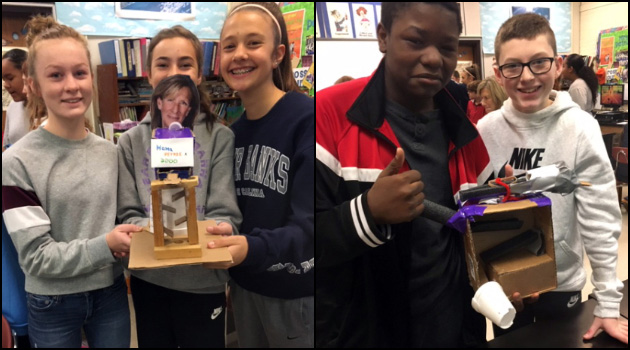 Lex 8th grade science students were given a performance project to complete their physics unit. The task was to build a working gum ball machine that had one interactive part and a loop or ramp system. They were also required to describe and explain their engineering project and how their machine related to Newton's three laws of motion. The students worked in groups of two or three to design and create their gum ball machine. All the designs were different and all the machines met the design requirements and all the machines worked! What a great way to use the information learned in a practical application, learn to work as a team, persevere when things don't go exactly as planned and have some fun while doing it all.
Griffin R. Designs Ramp Stand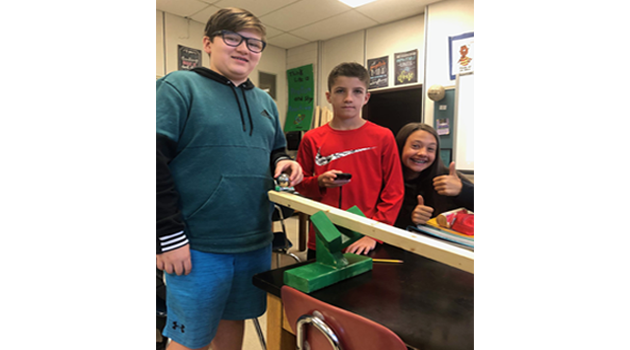 Congratulations to Griffin R. for designing a ramp stand for 8th grade physics classes. The class was challenged to design a stand to support a ramp at various heights.
7th Graders Visited Kokosing Construction
Lex Junior High 7th graders recently visited Kokosing Construction where they learned about the wide variety of career opportunities in the construction industry. They also saw the inner workings of one of the World's largest construction companies!
Junior High Academic Challenge Teams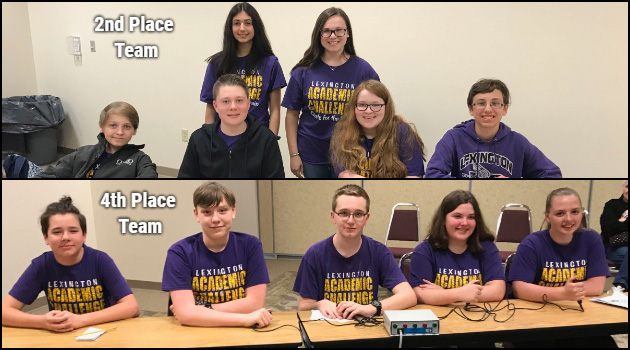 Congratulations
to the Junior High Academic Challenge teams for placing 2nd and 4th in their recent tournament!
2nd Place: Jacob H., Alex M., Jennifer C., Grant M., Ava G., Chloe D.
4th Place: Carter W., Wesley H., Wyatt M., Sophi R., Kylie G.
8th Grade Chemistry Experiments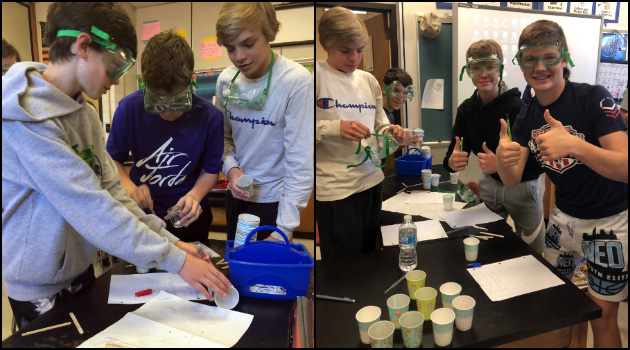 8th grade students performing chemistry experiments in preparation for High School. Their experiments were a practical application of the content they have been studying. The experiments covered chemical reactions, ions, isotopes, and chemical equations.
8th Grade Girls Basketball OCC Champions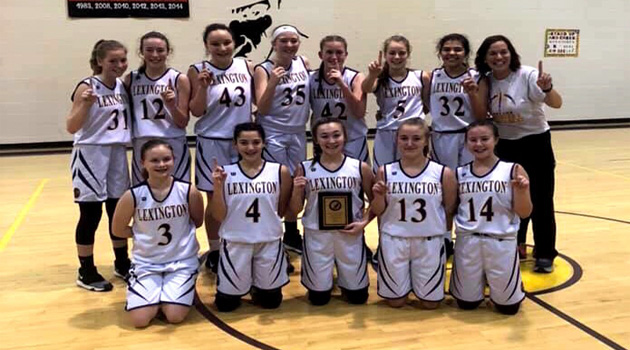 Congratulations to the 8th Grade Girls' Basketball Team - 2019 OCC Tournament Champions!
Scale Model Projects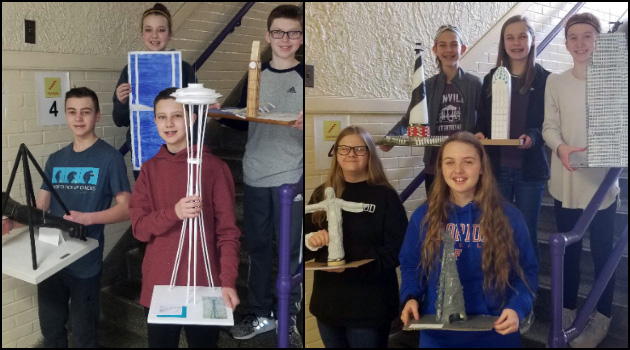 Junior High Math 8 students and their Scale Model Projects to go with their study of scale, scale factor, and proportions. Awesome models! Great job by all who participated.
Junior High MOESC Spelling Bee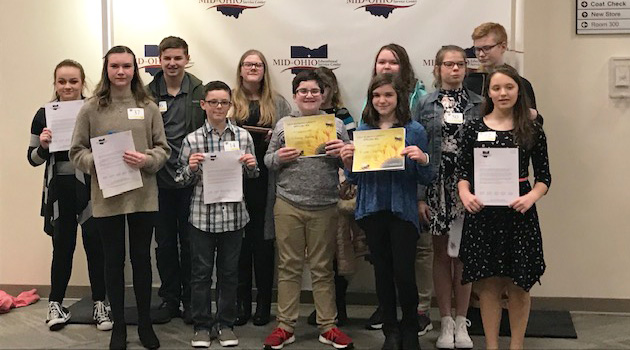 Lex Junior High students were among 53 students from 10 school districts to compete in the recent MOESC Spelling Bee. Natalie H earned second place honors and Drayton B earned third place honors. Natalie H., Drayton B. and Seth D. will participate in the Tri County Spelling Bee in February. Addison D. qualified to take the online test to determine if he will advance to Regional competition. Congratulations to all our JH spelling bee participants!
Junior High CACY Kindness Challenge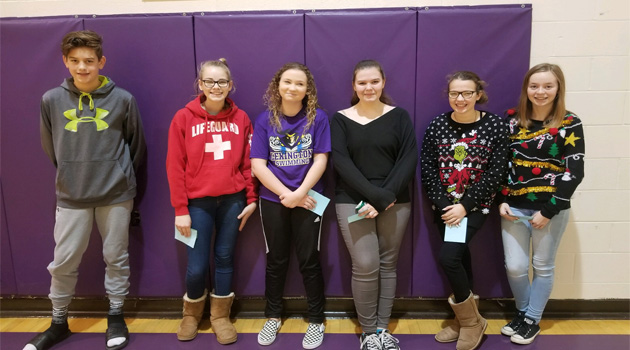 This six weeks the Junior High sponsored a Kindness Challenge. Teachers nominated students who were "caught being kind". A drawing was held including all the names of students nominated. The students pictured are the 7th and 8th grade winners of the Kindness drawing. Prizes were donated by staff members and local businesses.
Junior High CACY Members Distribute Gifts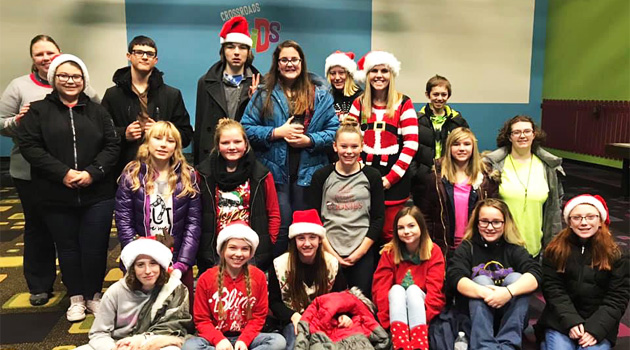 Junior High CACY club members volunteered to help distribute Christmas gifts to over 1,000 students.
Junior High Toy Drive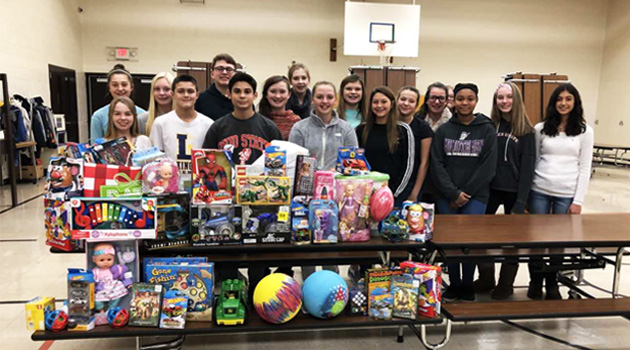 Lexington Junior High Toy Drive for the Richland County Outreach Center.
7/8 Girls Cross Country Fourth Place Finish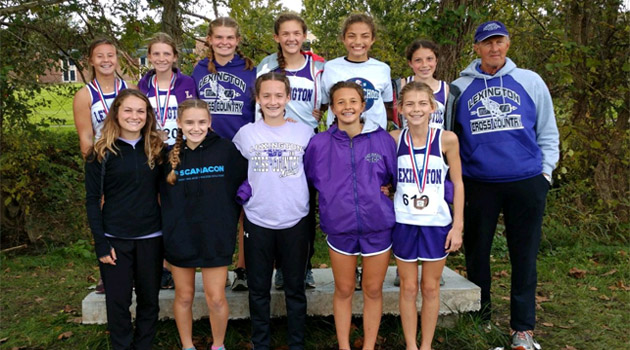 Lexington 7/8 Girls' Cross Country competed in the OHSAA State Invitational on Saturday and took a Team Fourth Place Finish.