2019 High School Homecoming Queen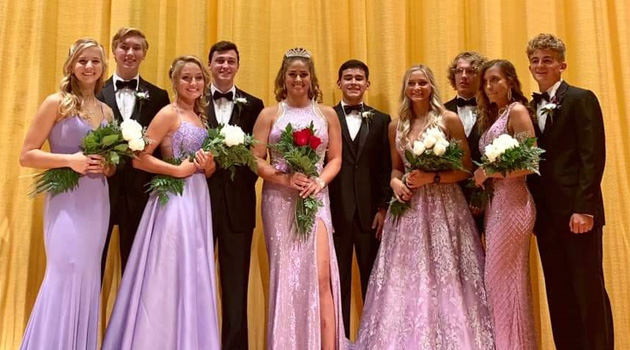 Congratulations to the 2019 Lexington High School Homecoming Queen Gabby S. and the Homecoming Court. Left to Right: Sara M. and Benton D., Lexi M. and Dylan S., Gabby S. (Queen) and Mauricio P., Tessa G and Kayden B., and Skylar B. and Aiden M.
2020 National Merit Commended Scholars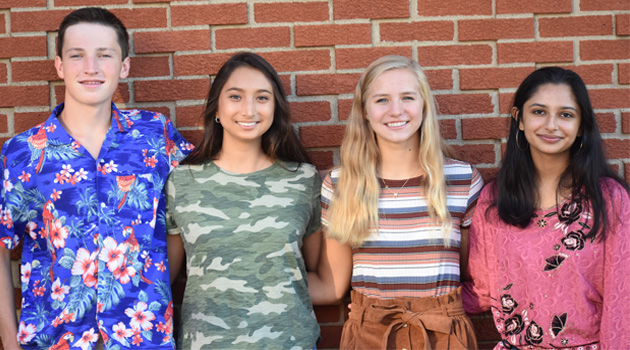 Each year more than 1.5 million high school students take the SAT/National Merit Scholarship Qualifying Test (PSAT/NMSQT) for National Scholar Recognition. This year Dan A., Olivia T., Sarah M., and Maskin S. were among the top 50,000 scorers of those 1.5 million students and earned the National recognition of being named 2020 National Merit Commended Scholars. What a tremendous academic achievement! Congratulations Dan, Olivia, Sarah and Maskin!
2019 LHS Homecoming Court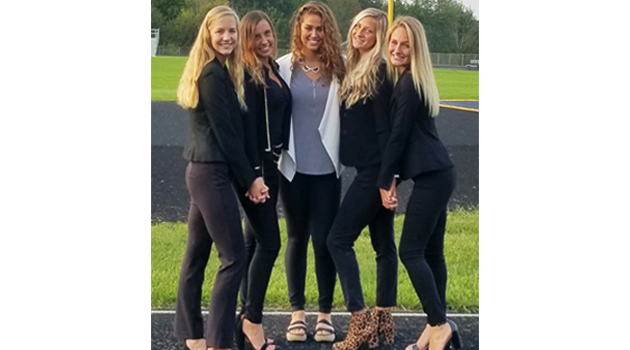 Lexington High School 2019 Homecoming Court as voted on by the student body. The 2019 Homecoming Queen will be crowned on Friday, October 4th during the Homecoming Assembly and honored during that evening's football game. (Front Left-Right): Sara M.; Skylar B.; Gabby S.; Tessa G.; and Lexi M.
2019 LHS Homecoming Nominations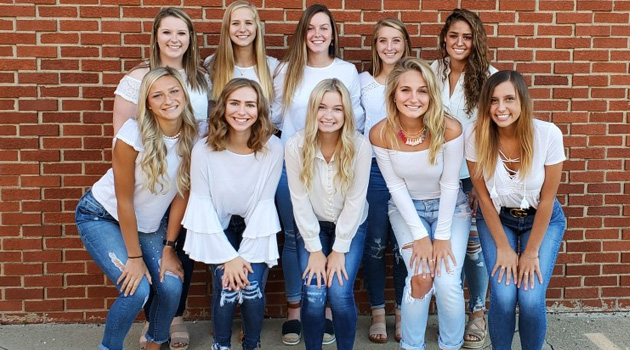 Lexington High School 2019 Homecoming nominations as voted on by the Senior class. The 2019 Homecoming Queen will be announced on Friday, October 4th during the homecoming assembly. The 2019 Homecoming Queen and her court will be honored at the football game that evening. (Front Left-Right): Tessa G.; Noelle M.; Natalie H.; Lexi M.; Skylar B. (Back Left-Right): Marissa L.; Sarah M.; Cailey A.; Jenna H.; and Gabby S.
High School Mental Wellness Fair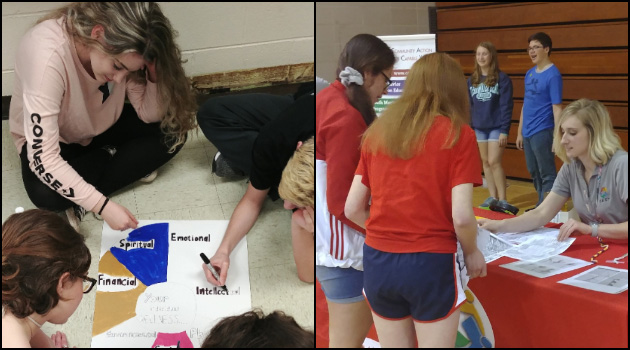 Lexington High School Student Council hosted a Mental Wellness Fair during lunches on May 22. Over 15 community groups from Richland County set up booths, shared important information and interacted with students. As students visited tables and displays from area organizations, they were made aware of the facts surrounding Mental Health and provided with resources. Over half the student body attended this fair and left with resources, freebies, and most of all, a better knowledge of mental illness and overall mental health.
High School BioClub Educates About Bees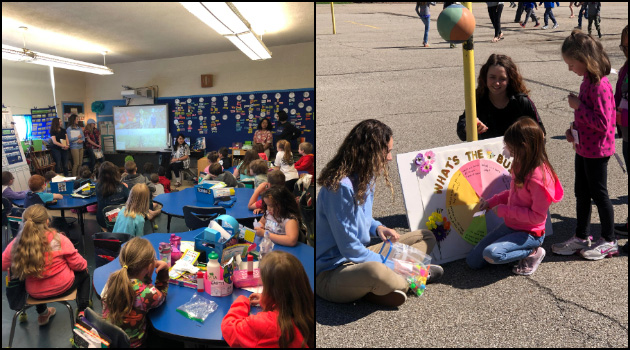 The High School BioClub visited Central Elementary recently to teach a lesson on the different types of bees, the importance of bees to our food supply and ways to protect bees. The BioClub members also helped the first graders finish a craft designed by the HS students that "hums like a bee" when twirled. It was a fun learning experience for the Central and High School students. Way to go BioClub!
William S. Awarded the Rotary McGowan Courage Award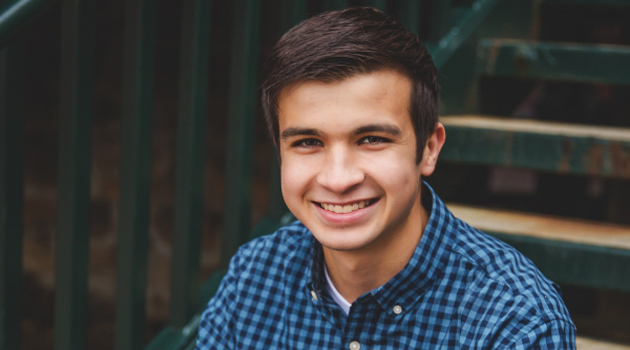 Lexington Senior William S. was awarded the Rotary McGowan Courage Award on May 7th by the Mansfield Rotary Club. He joined 8 other students from Richland County who were also recognized by the Rotary Club for having demonstrated courage, tenacity, and fortitude in the face of adversity and difficulty in their lives. Congratulations to William and all Richland County recipients.
Purple Up! For Military Kids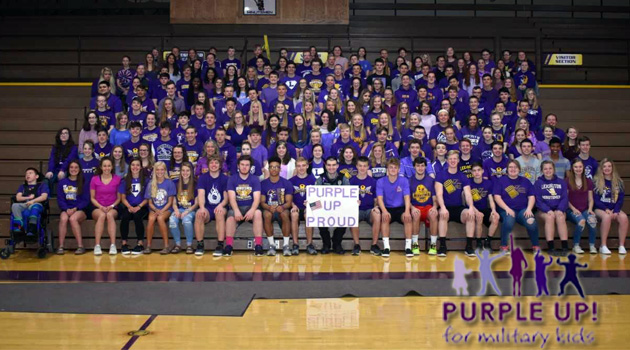 Lexington High School students are wearing purple in honor of Purple Up! day, a time for Americans to show their support for military families. April is the Month of the Military Child. Lexington recognizes, supports and is thankful for our military families. Military children endure frequent moves, changing schools, disruptions to "normal" routines and deployments just like the parent who stays behind with them. We want to show our support of all children of military families and celebrate their unique qualities, enduring contributions and the courage they display.
National YMCA Youth and Government Program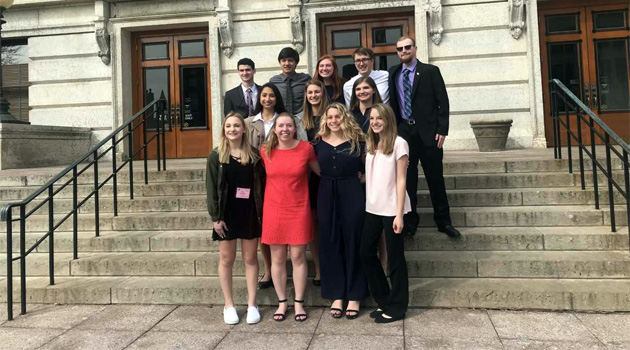 12 Lexington High School students attended the National YMCA Youth and Government program at the Ohio State House last weekend. Students from every corner of the U.S. have the opportunity to immerse themselves in experiential civic engagement and to, quite literally, practice democracy. The program culminates with teens serving as delegates at their state conference, debating bills on the floor of the legislature." (YMCA website source).
Front (left-right): Alaina K., Emma C., Alli Mc., Leah S.,
Second row: Olivia T., Sylvia T. and Jordan H.
Top row: Nick W., Teddy T., Ameilia M., Colin M. and Jacob W
Lexington High School students presented six bills on the legislative floor. Two bills died in committee, one died on the assembly floor, three passed the main assembly, and two were signed into law. Senior Jordan H. and Freshman Alaina K. had their bill to eliminate "Kitten Mills" signed into law. Senior Colin M. and Junior Leah S. had their bill to prohibit smoking in cars with minors signed into law. Siblings Teddy and Olivia T. had their bill that required pedestrians on roadways to wear reflective gear at night vetoed by the YG Governor.
We are very proud of all our future leaders!
Varsity Academic Challenge Team OAC Regional Competition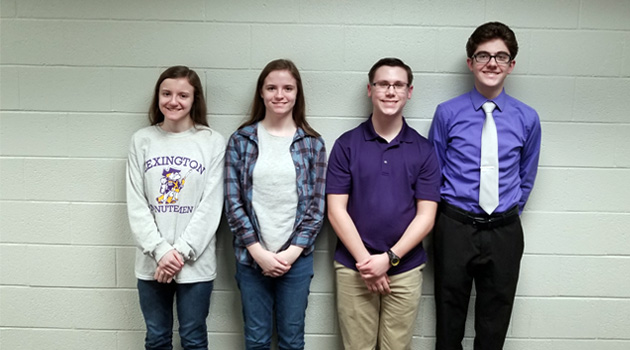 The High School Varsity Academic Challenge team competed in the OAC Regional competition. The team performed well and finished the competition 3-3. Congratulations to our team! (pictured from left to right: Maggie S., Katie S., Gavin D. and Evan B.)
Key Club Collected Pop Tabs for Ronald McDonald House Fundraiser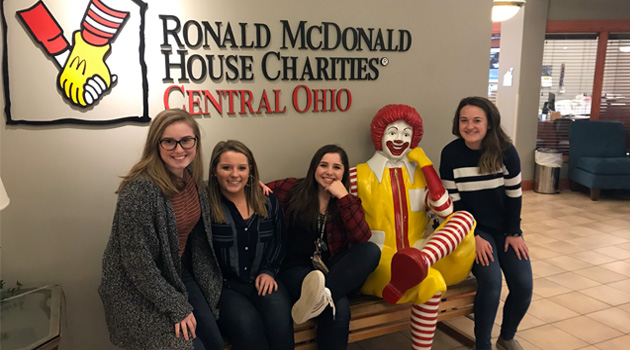 Lexington High School Key Club collected pop tabs during the month of February as a fundraiser for a Ronald McDonald House. They delivered 52lbs of pop tabs to the Ronald McDonald House recently. Pictured are the Key Club officers who delivered the pop tabs and had the opportunity to tour the house. They learned this is the largest Ronald McDonald house in the World.
Pictured are Key Club officers Rachel M., Marissa L., Lexi D., and Anna W. They lead a great student group that is actively involved in making a difference in the lives of people all around them.
Lexington High School Fire-N-Ice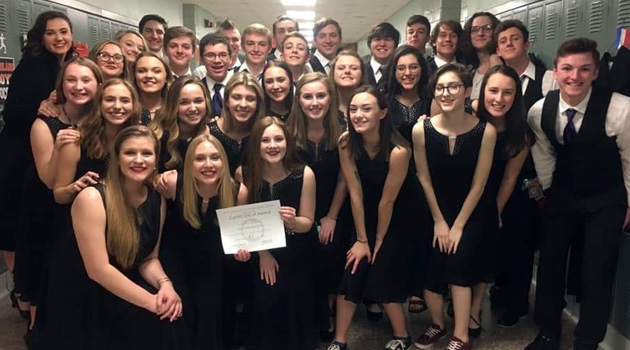 Congratulations Lexington High School Fire-N-Ice for qualifying to participate in the upcoming State Choir contest! GOOD LUCK!
Mansfield Noon Optimist Club Essay Contest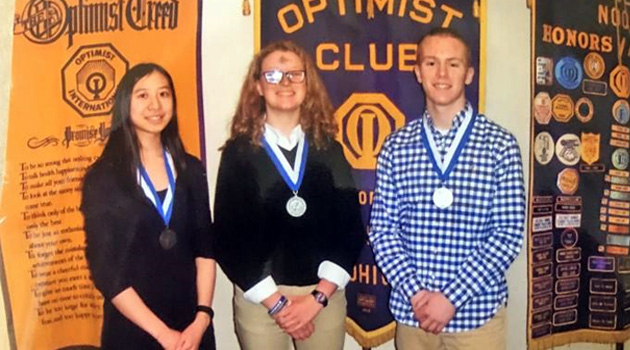 Lexington High School student, Mason H. was one of three area winners in the 2019 Mansfield Noon Optimist Club Essay Contest. This year's topic was "When All the World's Problems are Solved, is Optimism Still Necessary?" Congratulations Mason!
Luke K. Delivers Senior Project Presentation at Pioneer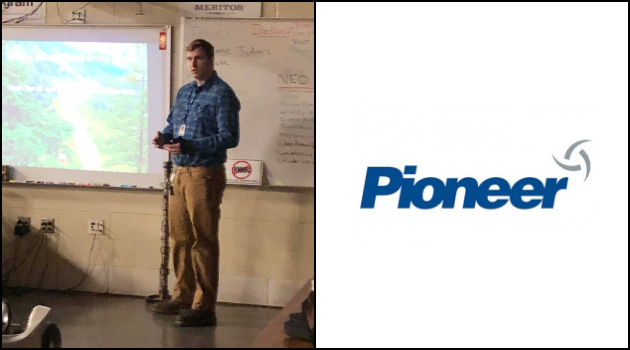 Lexington Senior Luke K. delivers his Senior Project Presentation at Pioneer. Luke is in the Industrial Diesel lab and his presentation was on changing oil in the diesel truck. Great job Luke!
Lexington Senior Shines at Governor's Art Show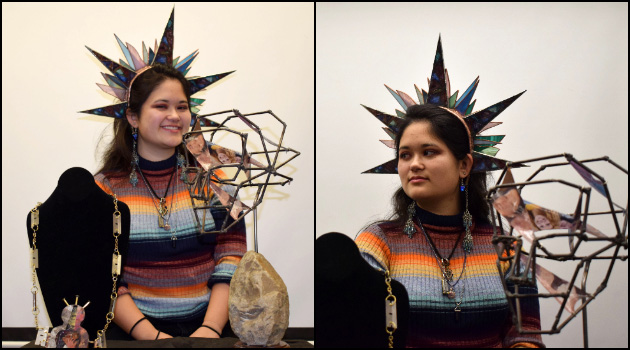 The Lexington High School Art Department had a great showing at the regional judging of the Governor's Art Show last weekend, as 34 pieces were selected. Those pieces will now go on to be judged again in Columbus. Lexington Senior Kayla L. topped the list by having all 5 of her pieces selected. Kayla has also received a $60,000 dollar scholarship and will be attending Miami of Ohio, majoring in jewelry and sculpture. Congratulations Kayla!
World Language National Honor Society Inductees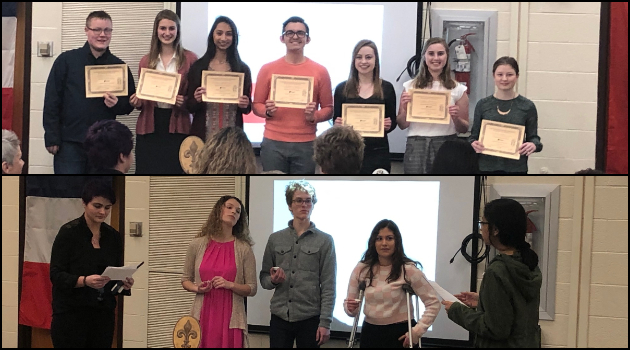 Ten Lexington High School students were inducted into the World Language National Honor Society on Monday night. Criteria was based on a 3.5 GPA, at least three consecutive years of a world language, and a variety of service points outside the classroom promoting language development.
French student inductees are: Montserrat J., William B. and Sylvia G.
Spanish student inductees include: Hannah C., Nathan H., Rachel M., Sarah N., Andrew R., Sylvia T. and Olivia T.
Congratulations to the 2019 World Language NHS inductees.
Bridget T's Great Moment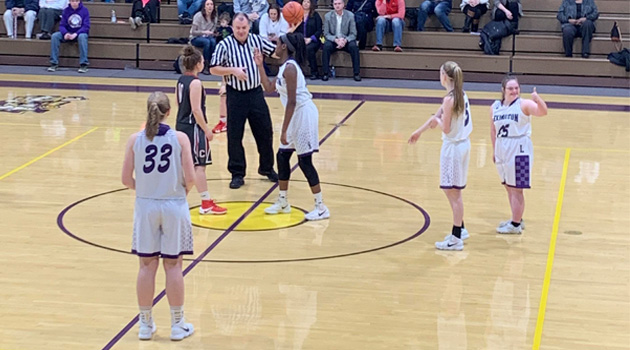 Lexington Senior Bridget T. is not only our 2018 Homecoming Queen, but also had the opportunity to participate in the last home game for our Varsity Girls' basketball team and scored her first basket ever. Bridget has served as the team manager the last four years. Special thank you to Coach Roush, Coach Doutt and the Lady Lex Team for making this moment possible and also to Centerburg High School coaches, players and administration for the great display of sportsmanship. Great shot Queen Bridget!
High School Mock Trial Team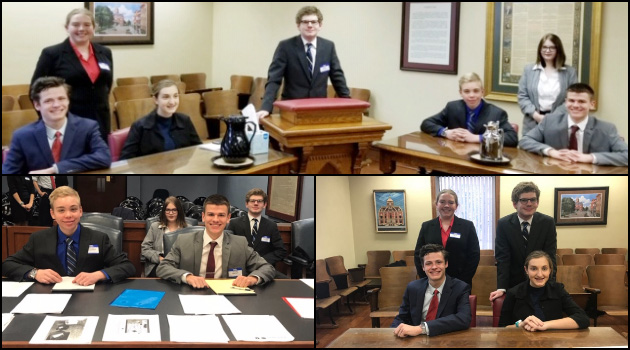 Lexington High School Mock Trial teams in competition at the Richland County Courthouse. Congratulations to all our Mock Trial team members for a great competition!
BioClub Christmas Bird Count at Gorman Nature Center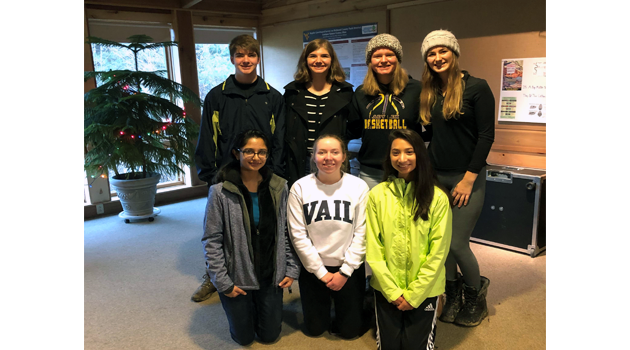 These High School BioClub members participated in the annual Christmas Bird Count at Gorman Nature Center. They walked trails along with other volunteers from the community and from Ashland University to count the number and species of birds at Gorman and the surrounding area. These counts will be a part of the Audubon Society Christmas Bird Count, the nation's longest-running community science bird project.
Zoe S. Digital Art Project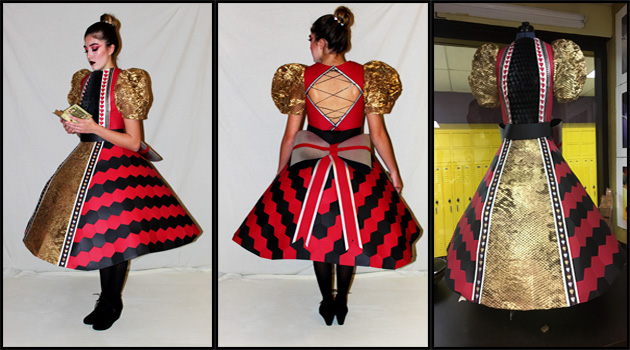 Lexington Junior Zoe S. recently created a 10-pound paper dress for a digital art project. The creation is named Pulp-Fiction. This name acknowledges that the dress is made entirely of various papers. The article of paper fashion is tailored to fit Zoe, and it is quite wearable! The inspiration came from her love of the elaborate patterns in medieval fashion. The idea also was sparked by the exaggerated shapes and colors of the costumes in Alice in Wonderland productions. Making a paper dress and hoop skirt entirely out of paper was no easy task; it took five weeks to complete! Zoe's art teacher, Mr. Javurek, gave her a lot of insight and suggestions that led to the final product. He is one of her greatest influences, and she looks up to his artistic talent on a daily basis. Zoe's goal is to enter the fashion industry. She looks forward to creating more fashion pieces prior to graduating next year.
2018 Mid-Ohio ESC Academic Challenge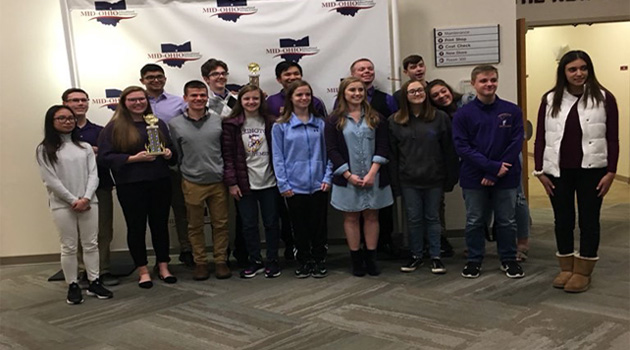 Congratulations to the Lexington High School Varsity and JV Academic Challenge teams for winning the 2018 Mid-Ohio ESC Academic Challenge!